Bangkok is a large city that possesses only the beginnings of a mass rapid transport system such as can be found in Singapore or Hong Kong. Traffic in Bangkok is also notoriously bad, and it is often impossible to ascertain just how much time is needed to go from point A to point B if you are travelling by road. There are ways to get around the city however, and the best method of transport can very much depend on the time of day, or other circumstances such as start and end points of travel. Although not expensive in any case, cost can also be a factor in selecting the best method of transport.
The colourful taxis that dominate the traffic in Bangkok are cheap and plentiful, and these days they are all fitted with meters. Nevertheless, some unscrupulous drivers will refuse to turn on the meter and quote you a flat, inflated price. This particularly happens in certain tourist areas. In this situation, it is best to get out of the taxi and flag another one down. In order to try and avoid this situation completely, it is usually better to walk just a short distance away from the tourist spot and flag down a moving taxi. It is normally the case that it is the stationary taxis who most frequently behave in this manner, although it has to be said that the vast majority of taxis will turn on their meters straight away without you having to ask. For short trips, outside of rush hour, a taxi is probably easiest and quickest, and is particularly economical if you are a group of 3 or 4. It also has the advantage of taking you from door to door. In rush hour, you will probably find that the taxis will, in any case, refuse to take you to certain areas because they don't want to be sat in a traffic jam either. Taxis are also good for longer journeys at weekends when traffic is usually much lighter.
The ubiquitous and photogenic tuk tuk is probably something every tourist wants to try once, but as a regular way to get around the city they are to be avoided. They are often involved in scams with the intention of taking you to specific shops where they get free petrol and you get ripped off. The usual approach, is to quote you a very low price per hour, and then to take you on a tour of places where they get their commissions and kickbacks. Don't be fooled! Even if there is no scam, they will almost always quote you a price more expensive than a normal taxi. Add to this, the fact that they are dirty, noisy and just a little dangerous, then there is little reason to use them in preference to taxis. Equally dangerous, if not more so, are the motorcycle taxis often preferred by the locals. They are quick to get around the streets as they negotiate the traffic, sliding between cars and buses, and even taking to the pavements in some areas! They can be useful for short journeys as long as you are prepared to take the risk of travelling on the back of a motorbike without any protection in the form of a crash helmet. Costs are generally less than a taxi for short journeys, but can be more, depending on the state of the traffic.
Since 1999, the Skytrain has weaved through the streets of central Bangkok on just 2 routes. Initially empty, it is now crowded, especially at rush hour, but it is a fast and convenient way to get around if your journey coincides with one of its two routes. Expansion has already started, but it will be some time before there is greater coverage of Bangkok. 2005 saw the addition of an underground system known as the MTR but as yet there is only one line, and, in typical Thai fashion, there is no cooperation with the Skytrain, for example, in the use of a single ticket. This is despite the fact that the two systems are somewhat integrated with connecting stations. As with the Skytrain, if your starting point and destination happen to coincide with the MTR's route, then it is probably the best choice, although if there are 3 or 4 of you it will cost more than a taxi. Safety and speed are however assured which cannot always be guaranteed with a taxi.
The Skytrain (BTS) connects, not only with the MTR, but also with the express boat services at Saphan Taksin. They ply their trade up and down the Chao Phraya River through central Bangkok, and all the way up to Nonthaburi. Incredibly cheap, it is something of an experience to take one of these boats. They only stop for a few seconds at each landing stage, allowing passengers to jump on and off, before speeding on to the next pier. They are definitely the preferred mode of transport for any destination along the river, and are particularly good for tourists wanting to visit the sites, most of which are situated close to the river. Boats also head off river, down the klongs (canals), and provide a convenient and fast mode of transport through some parts of the city.
Large and small buses are everywhere in both air conditioned and non air conditioned forms. They are very cheap, and although they can suffer the same traffic delays as taxis, they are an economical way to get around the city centre and to the outlying districts of Bangkok. Bus route maps are available free at BTS stations. At certain times of the day, they can be very crowded on certain routes. Given this and the traffic situation in Bangkok, they are, therefore, not always the best option.
It is often worth spending a few minutes studying the options available when travelling from one part of the city to another, and considering using a combination of the different methods to get to where you want to be. For example, if you are located near to BTS or MRT station and wish to go to Chinatown, you could take the BTS to Saphan Taksin, and then take the express boat. Alternatively, you could take the MRT to Hue Lampong, and then take a short taxi ride or even walk. It really all depends on time of day, your personal preference and the number of people in your party as to which is the best method.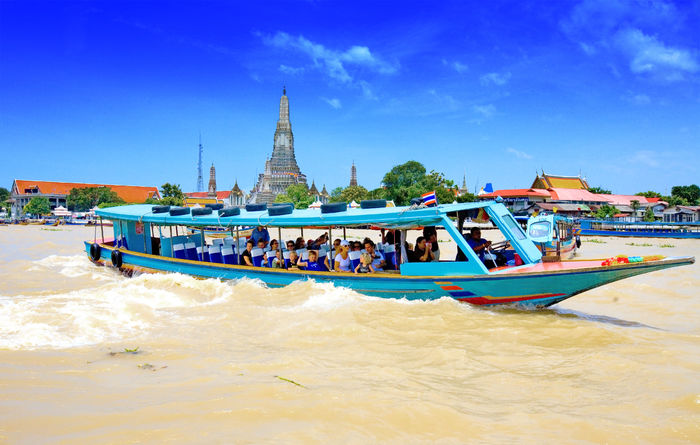 Until expansions to both MRT and BTS are completed, Bangkok will remain a traffic clogged city, suffering the pollution caused by exhaust gases from cars and ageing, diesel fume belching buses. These expansions, however, point to a cleaner, easier to get around city in the future. It will, however, be some time before Bangkok can begin to match the efficiency of the transport systems of Singapore and Hong Kong.